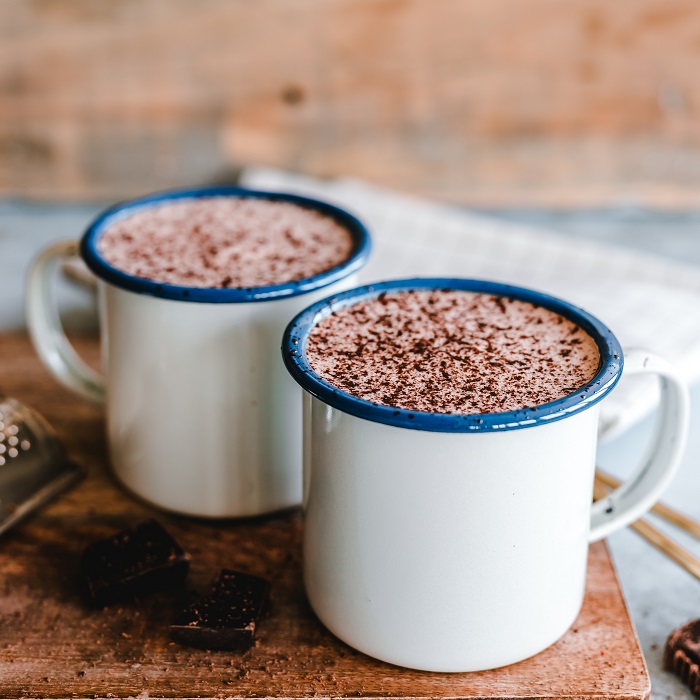 Misschien heb je al gehoord van cacao ceremonies of doe je dat zelf al wel eens: cacao wordt namelijk in bepaalde gebieden op de wereld al duizenden jaren als een heilige drank gebruikt. En nu ontdekken wij ook steeds vaker de voordelen van een dagelijks 'cacao bliss'-moment. Wij van Superfoodies ontwikkelden hiervoor een speciaal product en geven je natuurlijk een healthy Classic Daily Love hot chocolate recept.
In deze tijden is een dagelijks 'slow down' moment geen overbodige luxe. Even genieten van een kopje cacao, zoals sommige culturen cacao al duizenden jaren inzetten. Cacao zit namelijk vol met stoffen waar niet alleen je lichaam, maar ook je gemoed blij van wordt. Cacao heeft bijvoorbeeld een effect op onze neurotransmitters waardoor we ons vrolijker voelen, minder stress ervaren en meer focus hebben. Wij van Superfoodies hebben hiervoor een speciale 'ready to mix' drank ontwikkeld: Daily Love is een poeder met alleen maar natuurlijke ingrediënten zoals rauwe cacao, MCT-olie, ashwaganda en paddenstoelen en uiteraard vrij van gluten, zuivel, soja en kunstmatige toevoegingen. Het bevat goede vetten en weinig calorieën. Je hoeft hier alleen maar heet water of warme plantaardige melk aan toe te voegen, makkelijker kan niet.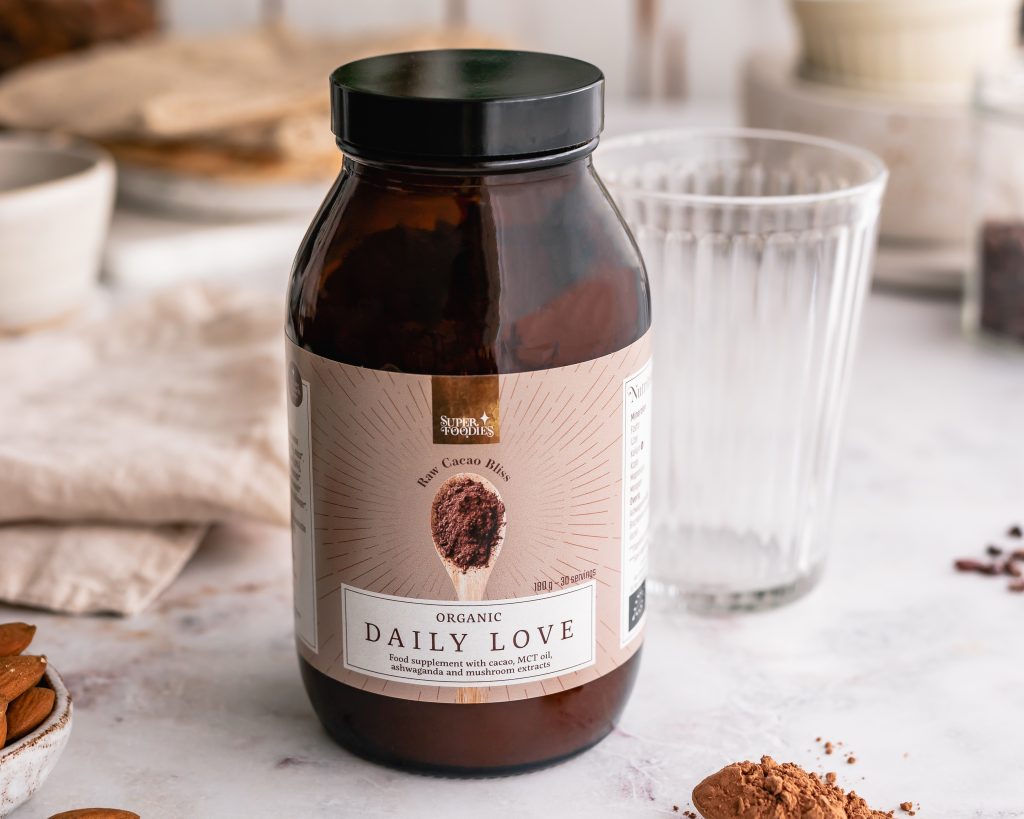 Wat zit er precies in Daily Love?
Ashwagandha, wat ons helpt om een optimaal uithoudingsvermogen, vitaliteit en fysiek en mentaal welbevinden te onderhouden*. Ook helpt ashwagandha het lichaam met stress omgaan*. De Braziliaanse ginseng versterkt het menselijk lichaam en positieve levenslust*. Maca is een poeder gemaakt van een knolgewas uit Peru dat diverse vitamines, mineralen, enzymen en alle essentiële aminozuren bevat. De extracten van medicinale paddenstoelen worden in bepaalde culturen al duizenden jaren ingezet voor het verbeteren van mentale focus tot aan het versterken van het immuunsysteem. Zo is Daily Love niet alleen verwennerij, maar ook echt een gezondheidsvoedingsmiddel.
Geef elke dag wat extra liefde aan je lichaam en geest met Daily Love. Het is jouw dagelijkse "cacao bliss"- momentje. Of maak er je eigen meditatieve cacao ceremonie van, alleen of samen met anderen.
*gezondheidsclaim in afwachting van Europese toelating
RECEPT CLASSIC DAILY LOVE HOT CHOCOLATE MILK
Voor 2 bekers Daily Love heb je nodig:
2x 240ml plantaardige melk naar keuze (bijvoorbeeld haver, amandel, erwten of kokos)
1 eetlepel (of 4 theelepels) Daily Love van Superfoodies
Zo maak je de hot chocolate:
Doe de plantaardige melk en het Daily Love poeder in een kleine pan
Roer goed door en verwarm tot de melk heet is, maar nog niet kookt
Wil je een schuimende hot chocolate? Doe het dan nog even in de blender (of melkopschuimer) en mix voor 30 seconden.
Giet in je favoriete kopjes, en strooi er wat losse cacaopoeder over als je dat lekker vindt.
Serveer direct en geniet!