Kurkuma, ook vaak geelwortel genoemd, is een knolgewas dat in Zuid-Azië groeit en tot de familie van de gember behoort. Deze diepgeel gekleurde specerij is in vrijwel elke supermarkt als poeder verkrijgbaar, maar kan ook vers gekocht worden in Aziatische toko's en natuurvoedingswinkels. Kurkuma is een veel gebruikt ingrediënt in de Aziatische keuken en staat bekend om de vele gezondheid bevorderende eigenschappen. In deze blog laten we je kennis maken met 25 voordelen van kurkuma die je nog niet kende.
Waarom is kurkuma zo bijzonder?

Kurkuma bevat 3 verschillende gele pigmenten (curcuminoïden), die allemaal een krachtige antioxidantwerking hebben. De meest bioactieve stof van de drie is curcumine en is om die reden het meest bestudeerd door wetenschappers. Omdat verse en gedroogde kurkuma slechts voor 3% uit curcumine bestaat wordt deze stof ten behoeve van de productie van kurkumasupplementen meestal geëxtraheerd en aangeboden in geconcentreerde doseringen van 500 mg of meer. In wetenschappelijke onderzoeken naar de werking van kurkuma wordt meestal gebruik gemaakt van supplementen met een hoge concentratie curcumine.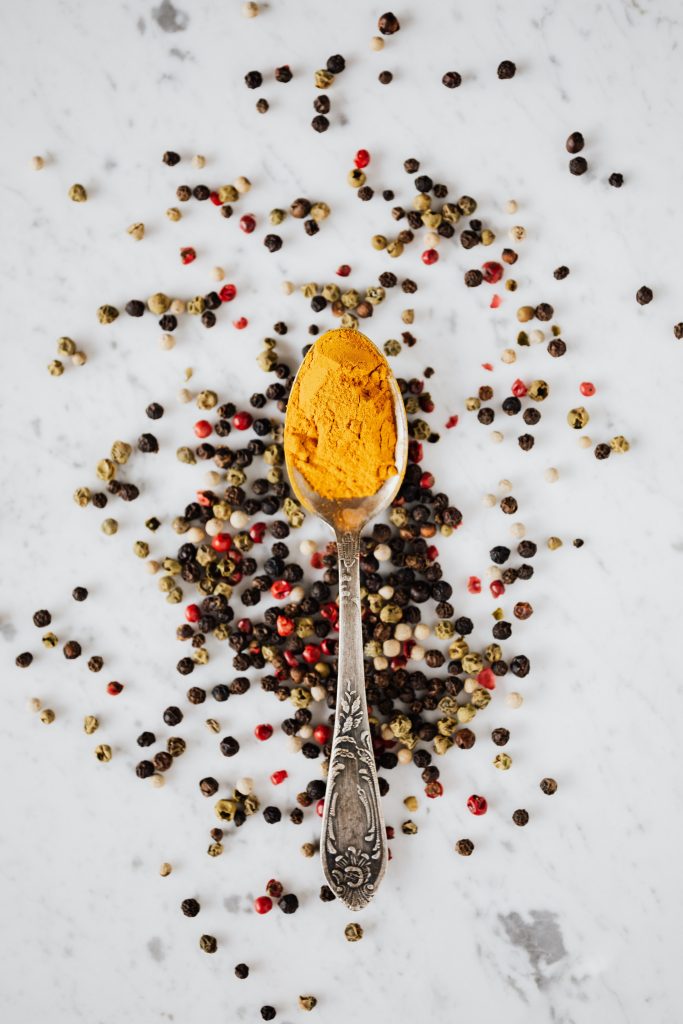 De 25 gezondheidsvoordelen van kurkuma
(wetenschappelijke bronnen zie onderaan deze blog)
Heeft ontstekingsremmende werking: sterk geconcentreerde curcumine blijkt bijna net zo effectief te zijn als ontstekingsremmende medicijnen.
Beschikt over kankerremmende eigenschappen: uit talloze laboratoriumonderzoeken en dierproeven is gebleken dat curcumine kankercellen kan doden en bij alle stadia van kanker (dus ook bij uitzaaiingen) een remmende werking heeft. Meer onderzoek is nodig om vast te stellen hoe effectief de kankerremmende werking van kurkuma bij mensen is.
Versterkt het immuunsysteem: kurkuma stimuleert de productie van het eiwit CAMP, dat helpt bacteriën, virussen en schimmels te bestrijden.
Beschermt tegen hart- en vaatziekten: kurkuma gaat oxidatieve stress en ontstekingen in de vaatwanden tegen. Daarnaast draagt kurkuma bij tot het herstel van de elasticiteit van de bloedvaten en versterking van het endotheel (binnenweefsel van bloed- en lymfevaten). Ook wordt bij inname van kurkuma het risico op een hartaanval na een bypassoperatie met 65% verlaagd.
Werkt cholesterolverlagend: onderzoekers hebben vastgesteld dat kurkuma bijdraagt aan een verlaging van het totale cholesterolgehalte en het LDL-cholesterolgehalte
Beschermt tegen candida: dankzij de schimmelremmende eigenschappen van kurkuma werkt het ook ter bestrijding van candida en is het vaak zelfs effectiever dan het antischimmelmiddel fluconazol
Kan angsten helpen verminderen: onderzoeken wijzen uit dat kurkuma verlichting kan bieden voor mensen die aan angsten lijden.
Helpt tegen depressie: uit diverse onderzoeken is gebleken dat kurkuma helpt bij de behandeling van ernstige depressie en net zo effectief kan zijn als bekende farmaceutische antidepressiva zoals Prozac.
Verbetert het geheugen en het leervermogen: kurkuma verbetert onder meer de concentratie, het ruimtelijk geheugen, het korte termijngeheugen en het leervermogen omdat het de vetzuurperoxidatie in de hersenen remt.
Kan Alzheimer voorkomen of vertragen: kurkuma verbetert de cognitieve functies van mensen met Alzheimer, onder meer omdat het het ontstaan van plak in de hersenen vermindert en het herstel van stamcellen in de hersenen stimuleert.
Helpt tegen chronische vermoeidheid: ontstekingsreacties liggen vaak ten grondslag aan chronische vermoeidheid, daarom kan kurkuma vaak effectief worden ingezet om vermoeidheidsklachten te bestrijden.
Bevordert een goede spijsvertering: kurkuma remt ontstekingen van de darmwand, ondersteunt de vertering van vetten en kan verlichtend werken bij mensen die lijden aan maagzweren, prikkelbare-darmsyndroom en de ziekte van Crohn.
Ondersteunt de lever: dankzij de ontstekingsremmende eigenschappen houdt kurkuma de lever gezond en ondersteunt het de lever bij de natuurlijke detox
Beschermt tegen galblaasaandoeningen: kurkuma bevordert de productie van galvloeistof en ondersteunt een gezonde werking van de galblaas.
Biedt ondersteuning bij afvallen: kurkuma verhindert de vorming van nieuwe vetcellen en vetopslag in de cellen. Op die manier biedt kurkuma ondersteuning bij het afvallen en het behouden van een gezond gewicht.
Vertraagt het ontstaan van diabetes type-2: onderzoekers hebben ontdekt dat als mensen met pre-diabetes kurkuma nemen, zij minder snel diabetes type-2 krijgen. Curcumine heeft bovendien mogelijk een gunstig effect op de bloedsuikerspiegel.
Beschermt tegen de schadelijke gevolgen van fluoride: drinkwater dat fluor bevat kan hersenschade tot gevolg hebben. Echter, door kurkuma in te nemen kan deze neurodegeneratieve werking van fluoride tegen worden gegaan, zo blijkt uit dierproeven.
Beschermt tegen de schadelijke gevolgen van acrylamide: bij zetmeel- en suikerrijke voedingsmiddelen die op hoge temperatuur worden verhit (zoals bijvoorbeeld, gefrituurde producten, koek en brood) wordt acrylamide gevormd, een stof die door de Wereldgezondheidsorganisatie als "waarschijnlijk kankerverwekkend voor de mens" is geclassificeerd. Kurkuma beschermt dankzij de krachtige antioxidantwerking tegen de schadelijke effecten van acrylamide, zo is uit onderzoeken gebleken.
Beschermt tegen toxische stoffen: kurkuma biedt bescherming tegen de schadelijke effecten van chemische stoffen waar we dagelijks ongewild mee in aanraking komen, zoals BPA, parabenen en bestrijdingsmiddelen.
Kan verlichting bieden bij tinnitus: indien de tinnitus (oorsuizen) wordt veroorzaakt door een ontsteking in het lichaam kan kurkuma verlichting bieden.
Werkt als pijnstiller: kurkuma helpt zeer goed ter bestrijding van met name chronische pijn, bijvoorbeeld bij artritis en reuma. Onderzoekers hebben aangetoond dat kurkuma zelfs effectiever is dan aspirine of andere bekende pijnstillers.
Helpt tegen spierpijn: sporters hebben veel baat bij kurkuma, omdat het spierschade helpt voorkomen en spierpijn doet verminderen.
Biedt verlichting bij gewrichtsproblemen: onderzoekers hebben ontdekt dat kurkuma de pijn verlicht bij mensen die lijden aan reuma, artrose, artritis en gewrichtspijn. Dit komt dankzij de ontstekingsremmende eigenschappen van kurkuma.
Vermindert keelpijn: kurkuma biedt verlichting bij beginnende keelpijn. Roer simpelweg wat kurkuma door een theelepeltje honing te roeren en eet dit op.
Zorgt voor een mooie huid: Kurkuma reinigt en ontgift de huid en werkt bovendien voedend en hydraterend waardoor de huid weer gaat stralen. Daarnaast kan kurkuma gebruikt worden ter behandeling van psoriasis en andere al dan niet ontsteking gerelateerde huidaandoeningen zoals acne en een geïrriteerde huid.
De eenvoudigste en lekkerste manier om dagelijks kurkuma te nemen
Het is algemeen bekend dat curcumine slecht opneembaar is, maar als je het neemt in combinatie met zwarte peper kun je de opname tot wel 20 maal verbeteren. Een eenvoudige manier om optimaal van de goede eigenschappen van kurkuma te profiteren is door Golden Milk te drinken. Deze specerijendrank naar authentiek Ayurvedisch recept is namelijk rijk aan kurkuma en bevat daarnaast uiteraard zwarte peper en diverse andere heerlijke specerijen. Je kunt Golden Milk zelf maken, maar nog makkelijker is het om gewoon Golden Milk Poeder van Superfoodies te nemen. Je roert simpelweg 2 tot 3 theelepels Golden Milk Poeder door een flinke kop noten- of rijstmelk, voegt eventueel 1 theelepel kokosolie, ghee of roomboter toe (curcumine is in vet oplosbaar, dus dit bevordert de opname) en verwarm dit mengsel enkele minuten al roerend in een pannetje. Voor het opdienen voeg je eventueel nog een zoetstof toe zoals bijvoorbeeld rauwe honing en je heerlijke warme heilzame specerijendrank is klaar!
Referenties
Ji S., 600 Reasons Turmeric May Be The World's Most Important Herb, greenmedinfo, 10 jul 2013
Wu CN., Safety and anti-inflammatory activity of curcumin: a component of tumeric (Curcuma longa), Journal of Alternative and Complementary Medicine, 2003 Feb;9(1):161-8
Jurenka J., Anti-inflammatory properties of curcumin, a major constituent of Curcuma longa: a review of preclinical and clinical research, Alternative Medicine Review, 2009 Jun;14(2):141-53
Bharat B. et al, Potential therapeutic effects of curcumin, the anti-inflammatory agent, against neurodegenerative, cardiovascular, pulmonary, metabolic, autoimmune and neoplastic diseases, The international journal of biochemistry and cell biology, Volume 41, Issue 1, January 2009, Pages 40–59
Goel A. et al, Specific inhibition of cyclooxygenase-2 (COX-2) expression by dietary curcumin in HT-29 human colon cancer cells, Cancer letters, October 30, 2001, Volume 172, Issue 2, Pages 111–118
Coussens L. et al, Inflammation and cancer, Nature. 2002 Dec 19-26;420(6917):860-7
Hutzen B. et al, Curcumin analogue GO-Y030 inhibits STAT3 activity and cell growth in breast and pancreatic carcinomas, International Journal of Oncology, 2009 Oct;35(4):867-72.
Liu S. et al, Anti-tumor activity of curcumin against androgen-independent prostate cancer cells via inhibition of NF-κB and AP-1 pathway in vitro, Journal of Huazhong University of Science and Technology, 2011 Aug;31(4):530-4
Moragoda L., et al, Curcumin induced modulation of cell cycle and apoptosis in gastric and colon cancer cells, Anticancer Research, 2001 Mar-Apr;21(2A):873-8
Marin Y.et al, Curcumin downregulates the constitutive activity of NF-kappaB and induces apoptosis in novel mouse melanoma cells, Melanoma Research. 2007 Oct;17(5):274-83
Jurenka JS., Anti-inflammatory properties of curcumin, a major constituent of Curcuma longa: a review of preclinical and clinical research, Alternative Medicine Review. 2009 Jun;14(2):141-53.
Carroll R. et al, Phase IIa Clinical Trial of Curcumin for the Prevention of Colorectal Neoplasia, Cancer Prevention Research, March 2011 4; 354
Bachmeier B, et al, The chemopreventive polyphenol Curcumin prevents hematogenous breast cancer metastases in immunodeficient mice, Cell Physiology and Biochemistry 2007; 19:137-52
Khor TO. et al, Combined Inhibitory Effects of Curcumin and Phenethyl Isothiocyanate on the Growth of Human PC-3 Prostate Xenografts in Immunodeficient Mice, Cancer Research. 2006 Jan 15;66(2):613-21
Srivastava R. et al, Effect of curcumin on platelet aggregation and vascular prostacyclin synthesis, Arzneimittelforschung, 1986 Apr;36(4):715-7
Ng TP. et al, Curry consumption and cognitive function in the elderly, American Journal of Epidemiology, 2006 Nov 1;164(9):898-906
Mishra S. et al, The effect of curcumin (turmeric) on Alzheimer's disease: An overview, Annals of Indian Academy of Neurololy, 2008 Jan-Mar; 11(1): 13–19
Ringman JM. Et al, A potential role of the curry spice curcumin in Alzheimer's disease, Current Alzheimer Research 2005 Apr;2(2):131-6
Hucklenbroich J. et al, Aromatic-turmerone induces neural stem cell proliferation in vitro and in vivo, Stem Cell Research and Therapy, 2014 Sep 26;5(4):100
Belviranlı M, et al, Curcumin improves spatial memory and decreases oxidative damage in aged female rats, Biogerontology 2013; 14(2):187-96
Jurenka JS., Anti-inflammatory properties of curcumin, a major constituent of Curcuma longa: a review of preclinical and clinical research, Alternative Medicine Review. 2009 Jun;14(2):141-53
Yu Y. et al, The effect of curcumin on the brain-gut axis in rat model of irritable bowel syndrome: involvement of 5-HT-dependent signaling, Metabolic Brain Disease. 2015 Feb;30(1):47-55
Prucksunand C. et al, Phase II clinical trial on effect of the long turmeric (Curcuma longa Linn) on healing of peptic ulcer, Southeast Asian Journal of Tropical Medicine and Public Health. 2001 Mar;32(1):208-15
Cox KH, et al, Investigation of the effects of solid lipid curcumin on cognition and mood in a healthy older population, Journal of Psychopharmacology, 2014; 29(5):642-51
Gombart, A., Like curry? New biological role identified for compound used in ancient medicine, Oregon State University, ScienceDaily, 25 May 2012
Fu Y. et al, Curcumin Protects the Rat Liver from CCl4-Caused Injury and Fibrogenesis by Attenuating Oxidative Stress and Suppressing Inflammation, Molecular Pharmacology February 2008 vol. 73 no. 2 399-409
Lumeng C., Inflammatory links between obesity and metabolic disease, Journal of clinical investigation, June 1, 2011
Ejaz A. et al, Curcumin Inhibits Adipogenesis in 3T3-L1 Adipocytes and Angiogenesis and Obesity in C57/BL Mice, Journal of Nutrition, May 2009 vol. 139 no. 5 919-925
Chuengsamarn S. et al, Curcumin Extract for Prevention of Type 2 Diabetes, Diabetes Care. 2012 Nov;35(11):2121-7
Arun N, et al, Efficacy of turmeric on blood sugar and polyol pathway in diabetic albino rats, Plant Foods Human Nutrition, 2002; 57:41-52
Wongcharoen W. et al, The protective role of curcumin in cardiovascular diseases, Int ernational Journal of Cardiology. 2009 Apr 3;133(2):145-51
Fleenor BS, et al, Curcumin ameliorates arterial dysfunction and oxidative stress with aging, Experimental Gerontology 2013; 48(2):269-76
Akazawa N. et al, Curcumin ingestion and exercise training improve vascular endothelial function in postmenopausal women, Nutrition Research. 2012 Oct;32(10):795-9
Wongcharoen W. et al, Effects of Curcuminoids on Frequency of Acute Myocardial Infarction After Coronary Artery Bypass Grafting, The American journal of cardiology, July 1, 2012, Volume 110, Issue 1, Pages 40–44
Deep Kaur C. et al, Topical vesicular formulations of Curcuma longa extract on recuperating the ultraviolet radiation–damaged skin, Journal of Cosmetic Dermatology, Volume 10, Issue 4, pages 260–265, December 2011
Antiga E. et al, Oral Curcumin (Meriva) Is Effective as an Adjuvant Treatment and Is Able to Reduce IL-22 Serum Levels in Patients with Psoriasis Vulgaris, Biomedical Research International 2015
Lopresti AL, et al, Curcumin for the treatment of major depression: A randomised, double-blind, placebo controlled study, Journal of Affectious Disorders 2014; 167:368-75
Sanmukhani J. et al, Efficacy and safety of curcumin in major depressive disorder: a randomized controlled trial, Phytotherapy Research, 2014 Apr;28(4):579-85
Kulkarni S. et al, Antidepressant activity of curcumin: involvement of serotonin and dopamine system, Psychopharmacology, December 2008, Volume 201, Issue 3, pp 435-442
Nicol LM. Et al, Curcumin supplementation likely attenuates delayed onset muscle soreness (DOMS), European Journal of Applied Physiology, 2015 Aug;115(8):1769-77
Drobnic F, et al, Reduction of delayed onset muscle soreness by a novel curcumin delivery system (Meriva®): a randomised, placebo-controlled trial, Journal of International Society of Sports Nutrition, 2014;11:31
Park C., Curcumin induces apoptosis and inhibits prostaglandin E(2) production in synovial fibroblasts of patients with rheumatoid arthritis, International Journal of Molecular Medicine, 2007 Sep;20(3):365-72
Chandran B, Goel A. A randomized, pilot study to assess the efficacy and safety of curcumin in patients with active rheumatoid arthritis, Phytotherapy Research 2012; 26(11):1719-25
Kuptniratsaikul V. et al, Efficacy and safety of Curcuma domestica extracts in patients with knee osteoarthritis, Journal of Alternative and Complementary Medicine. 2009 Aug;15(8):891-7
Sharma C, et al, Curcumin attenuates neurotoxicity induced by fluoride: An in vivo evidence, Pharmacognition Magazine, 2014; 10(37):61-5
Cao J, et al, Curcumin attenuates acrylamide-induced cytotoxicity and genotoxicity in HepG2 cells by ROS scavenging, Journal of Agriculture and Food Chemistry 2008; 56(24):12059-63
Martins CV, et al, Curcumin as a promising antifungal of clinical interest, Journal of antimicrobal Chemotherapy, 2009; 63(2):337-9
Maes M, et al, Not in the mind of neurasthenic lazybones but in the cell nucleus: patients with chronic fatigue syndrome have increased production of nuclear factor kappa beta, Neuro Endocrinol Letters, 2007; 28(4):456-62
Ji S., 31 Ways Turmeric Protects Against The Post-Industrial 'Chemical Apocalypse, greenmedinfo, 20 mei 2014
Shoba G. et al, Influence of piperine on the pharmacokinetics of curcumin in animals and human volunteers, Planta Medica, 1998 May;64(4):353-6
Scurlock, Joann, and Dafydd Stephens. "A ringing endorsement for Assyro-Babylonian medicine: The diagnosis and treatment of tinnitus in 1st Millenium BCE Mesopotamia." Audiological Medicine 6.1 (2008): 4-15.